Research on: Cost-drivers of construction sites.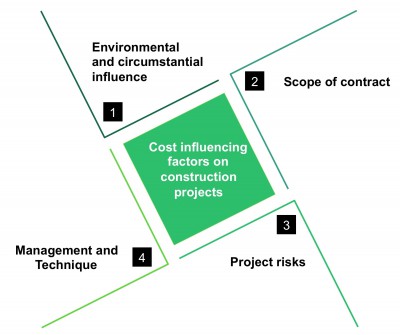 There is more or less one way only to increase value of a firm, namely to increase cash flow through ROIC and growth.
A corporation's future cash flows, however, are unknown and therefore fraught with risk. This becomes especially levered with respect to large CAPEX that are needed for asset heavy enterprises such as utilities, manufacturing and construction. Risk, however, is not to be used to refuse every opportunity. That said, it must be identified and shall match the desired economic benefits. Thus, the following paragraphs deal with potential influences and risks associated to construction endeavors in order to frame a construction project's risks.
Large construction projects such as power generation plants and refining facilities have always been connected to compound challenges. With regard to technological changes, governance and regulation, globalized supply chains and competition, construction projects have become even more complex in recent years. Roughly, there are four major groups that largely influence a construction project's success.
Interest rate on bank loans and changes in mortgage rates
The fluctuations in commodity price is too great
The fluctuations in labor cost is too great
Natural disaster and climate factor
Political environment
Geology, topography
Gross domestic products (GDP)
Level of demand on quality and project quality
Modifications to the scope of construction and
Clients requesting for modifications
Scale of construction and user demand, structure type, project type, project location
Contract types
Modifications of project schedule
(ahead of schedule or stop in mid –construction)
Contract dispute (unclear drawings or guidelines/regulations)
Clearly define the scope of project in the contract project scope specified in the bid
The types of clients and the client's way of dealing with key decisions
Clients asking for the project to be finished ahead of schedule
Protest and neighbor protests, tilted neighboring structure, labor protests
Inadequate construction techniques
Material shortage or supply delay
Inadequate project listing
Addition of new construction activities
Addition on to the number of activities
Stagnant project
Policy change
Delayed procurement
Unexpected technical difficulties
Disputes in opinions over the construction drawings
The project scale is too big and the project itself too complex
The client's financial capability
The subcontractors become bankrupt
The gap between the construction plan and the reality is too great
Occupational hazards
Design modifications
Project control meeting monitor and feedback
The understanding of operational procedures during project management
The client and engineer understand the difficulties in the actual operations
Appropriate decision-making
Procurement contract
Regular budget update
Material management
Timetable for the materials to be delivered on site
Project valuation does not match the collected payment
Subcontractor's valuation
Personnel training
Budget exceptions
Labor attendance
Cost control
Time management
The order of construction projects arrangement of construction progress
Project manager's capability
Project manager's leadership
Project manager's understanding of the operational procedure
Project manager's practical experience
Project manager's coordination capability
Project manager's risk management ability
Whether the high-level management decentralizes the power
Job site safety and health management
Carry out supervision
Whether the monitoring is implemented
Project team (coordination capability and the understanding of operational procedure)
Interactions among the project participants
Coordination among the team members
Coordination and mutual understanding of team
Teamwork among high-level management and subcontractors
Coordination between the project manager and the high-level management
Conflicts that occur while the high-level management manages the project
Support from the high-level management
Coordination between the project manager and subcontractors
Attitudes of the project manager and the subcontractors
Subcontractors' passive attitude toward project management
The lack of experience for this type of project
Subcontractors' construction techniques
Subcontractors' financial difficulties
Terminate the contractor's contract and re-issue the contract
Quality of the labor and engineering staff
Construction personnel's real-time decision-making
Construction methods
Construction machinery and equipment
Replacement of construction equipment
Knowledge and experience
Bid rigging, competitive bidding, bid preparation period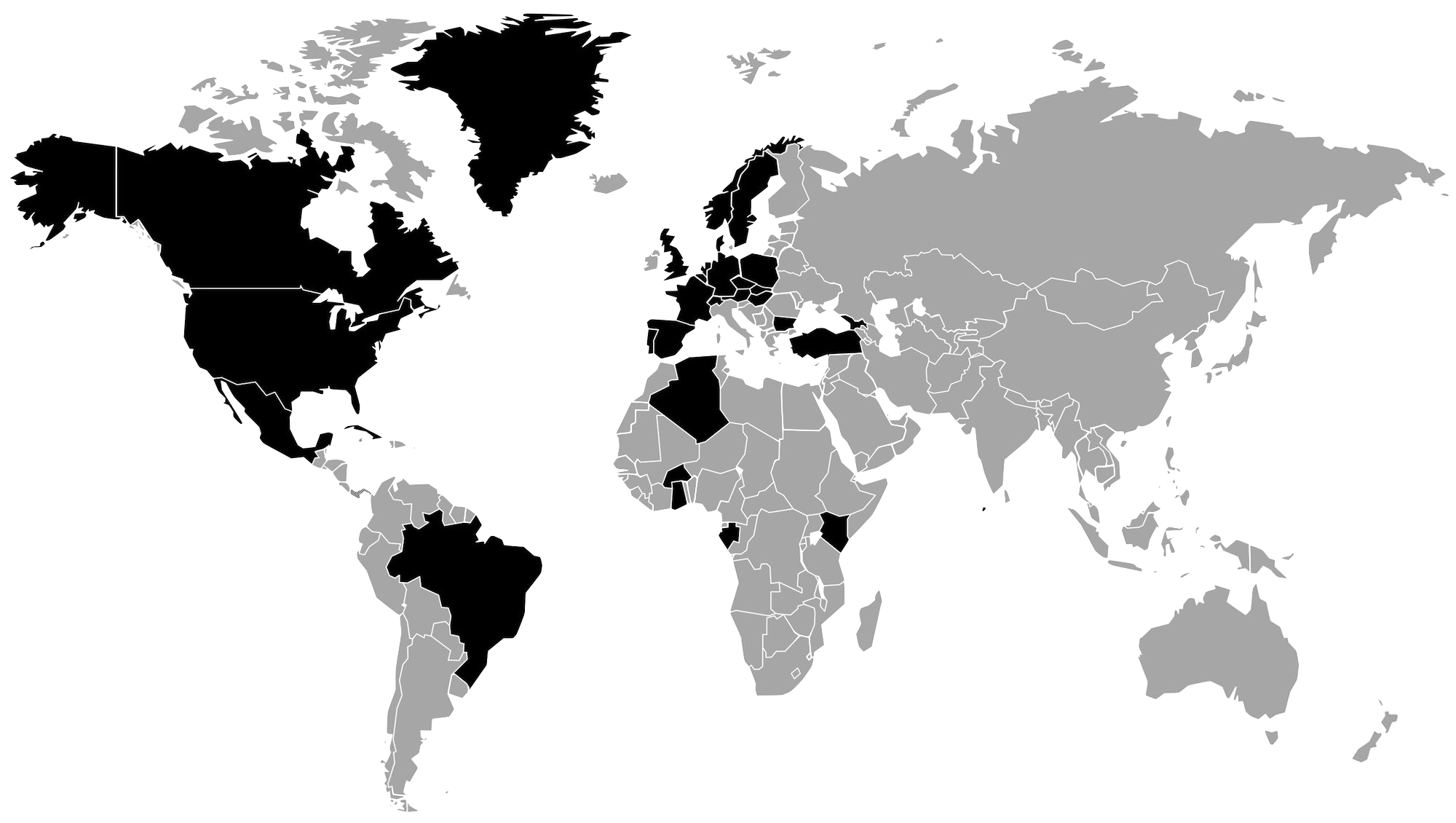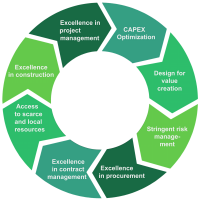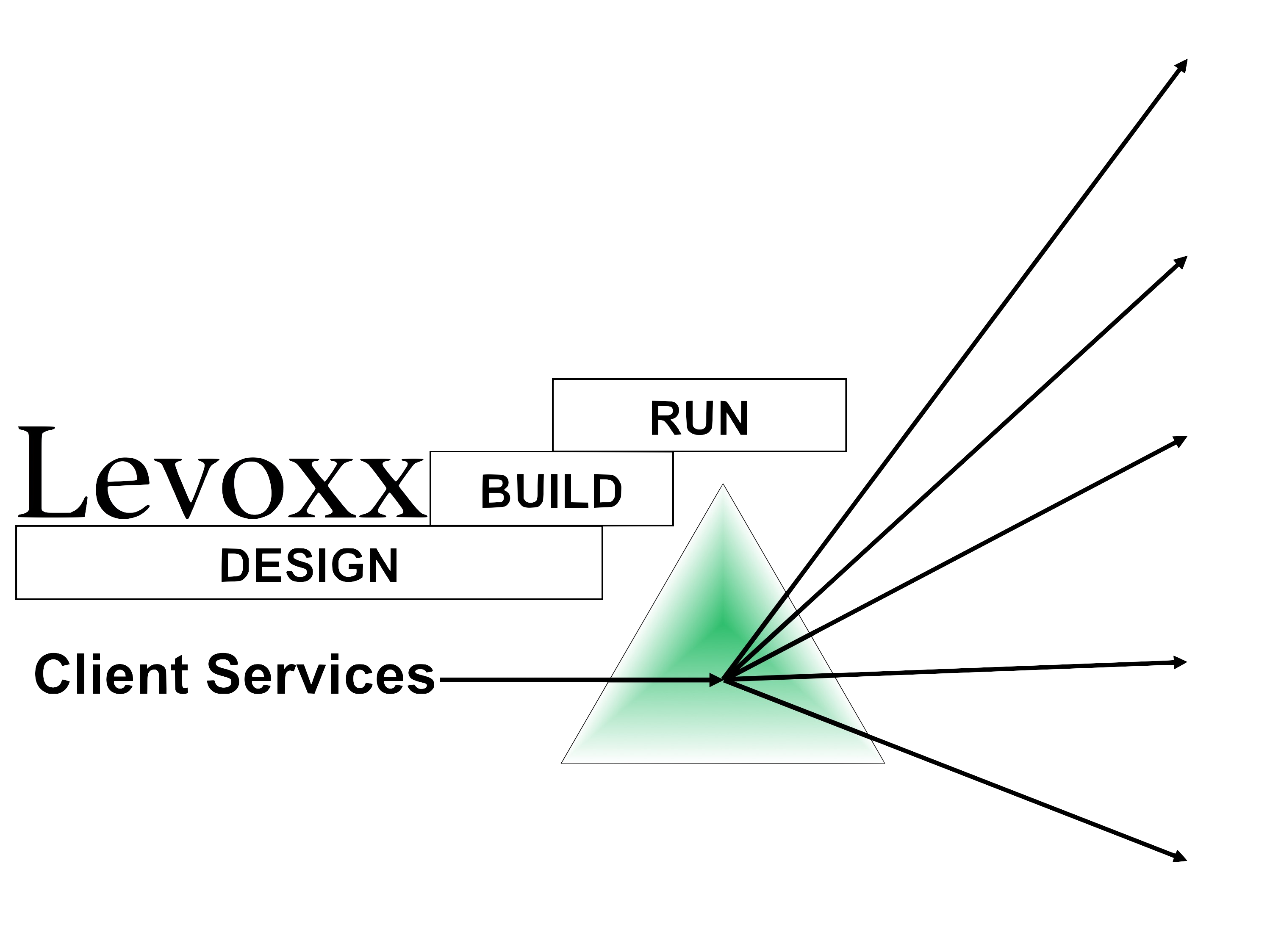 Beyond traditional boundaries: Levoxx is your co-worker in transformation.
Each of our client's assignments provides us with the unique possibility to produce added value together with our clients, shape standards, implement reasonably and enable long lasting impact.
Our solutions assist to look beyond conventional project management.
Levoxx's Large Scale Project Approach (LLSPA) is deeply embedded in our working methodologies and comprises eight areas that drive a construction project's success, deliver a project in time, on budget and at quality requirements.
Explore LLSPA
We are committed to offering efficient effectiveness, permanently.
Our client services comprise an extraordinary composition of deep industry and functional expertise. We partner with global construction projects. Our services aim to deliver optimal planning, frictionless execution, transformation and peak performance operations.
Client Services