How do you add value and competitive advantage to your construction site?

Larger, riskier and more complex projects and construction sites strive to create value. The ramp up and improvement of production, quality, safety and efficiency in the permanently changing global landscape is a challenge. Under these conditions, in time and on budget project delivery is essential to value capture.
Thus, companies in engineering and construction need to incorporate fast moving advancements into their operations in order to deliver top notch products and services at higher speeds, better quality and decreased costs. That said, thorough planning reduces the likelihood of failures in the future.
Today's conditions make value creation increasingly challenging
Especially in in today's VUCA conditions by means of increased challenges associated to large scale construction projects as a result of demographic shifts, industrialization of emerging economies, increased numbers of market participants and derived increased demands for raw materials and energy a project's planning function becomes increasingly important.
Explore our research on construction site delay statistics.
Plan to deliver in time, on budget and at quality requirements.
The quality of our professionals is the cornerstone of our ability to assist in planning processes of large scale construction projects. Our capabilities and solutions derive from the expertise and experience of our professionals. That said, our specialist force comprises engineers, business managers, construction managers, HSE experts, supervisors, foremans along with crane and transport operators.
Our colleagues strive to apply their talents to complex, important planning challenges and deliver practical results that entail our entire company experience.
Through the incorporation of our Large Scale Project Approach (LLSPA) our contribution in planning enables long term value creation.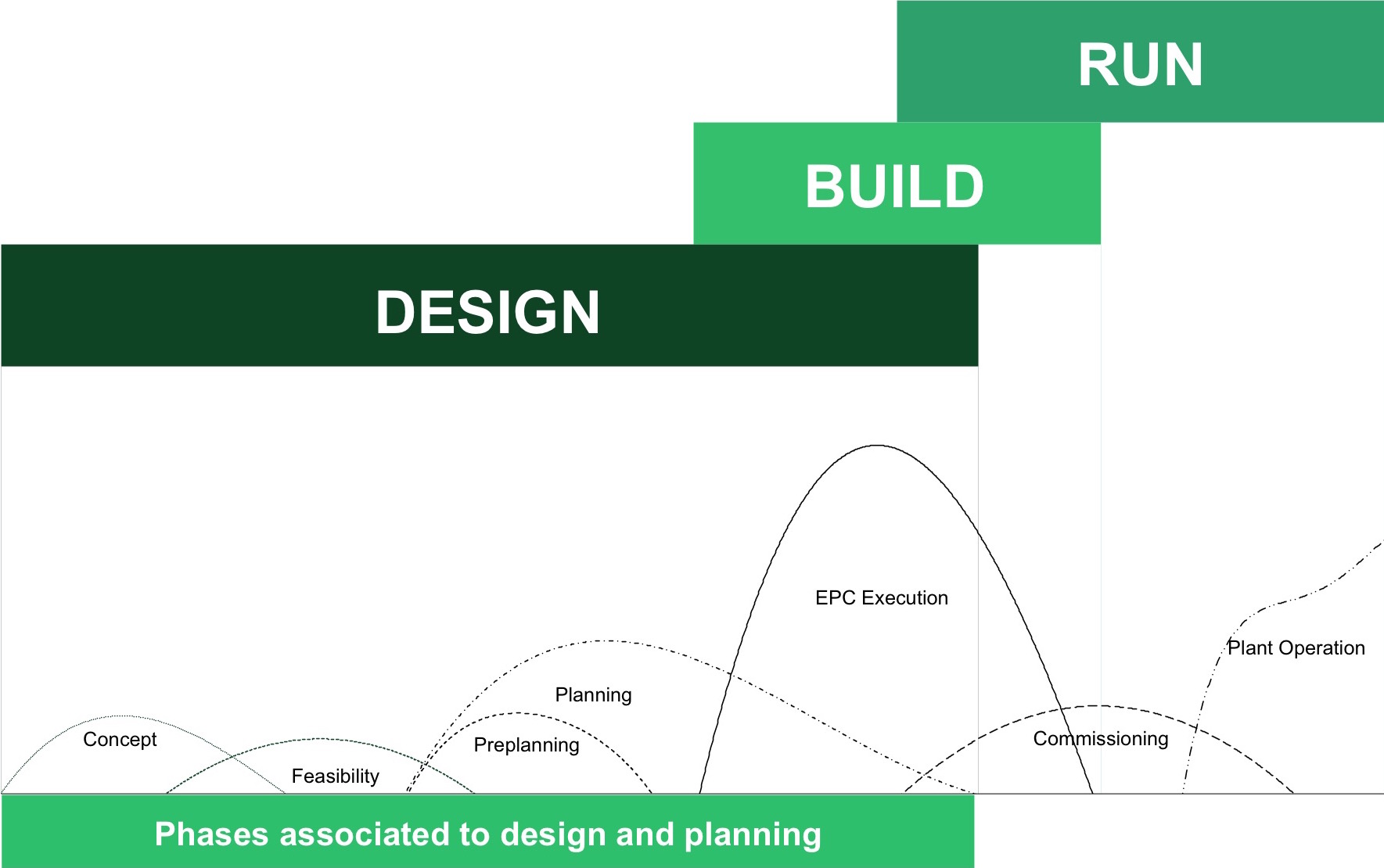 Levoxx Services in Erection Planning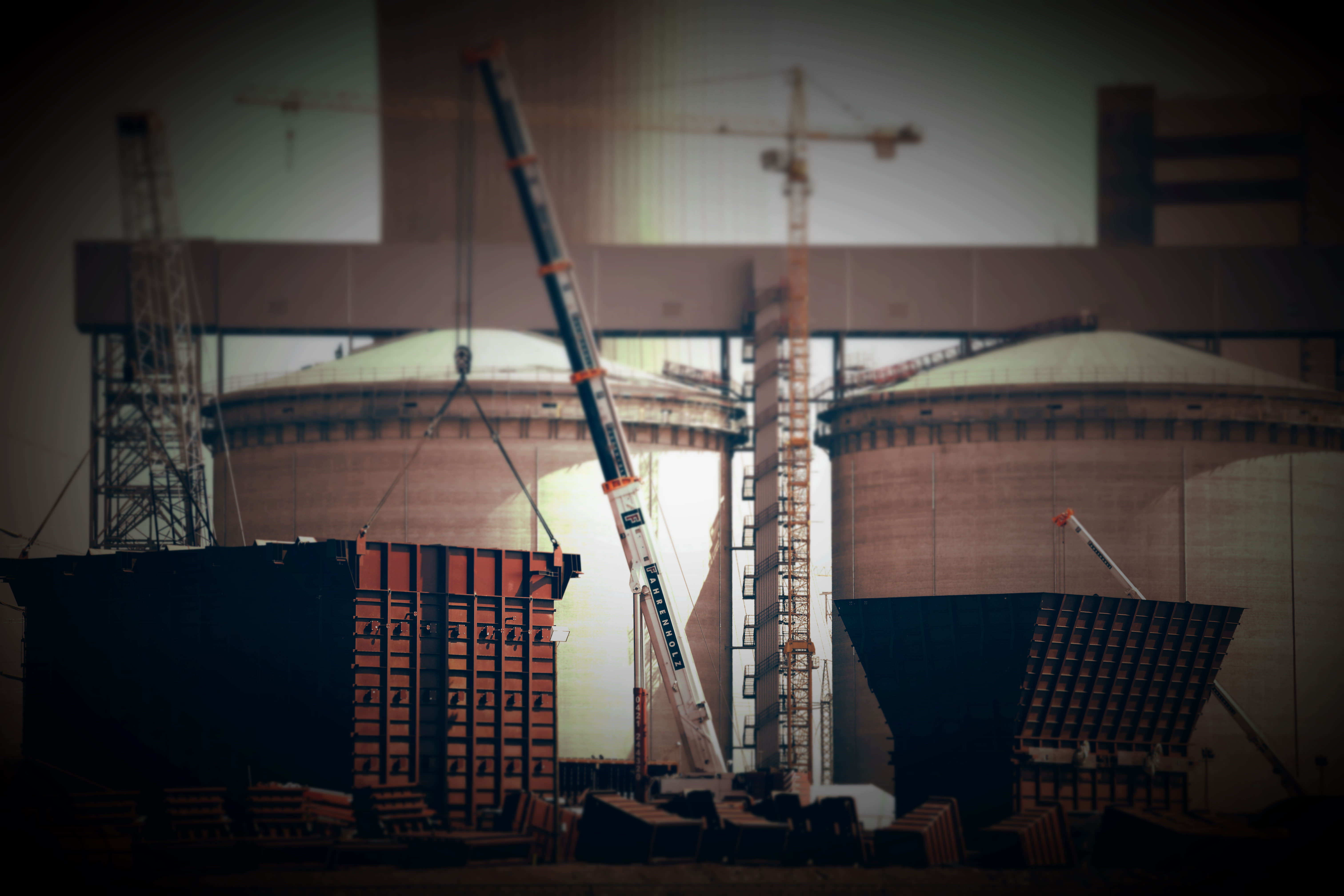 Construction Methods Planning
Plant construction erection planning prior to kick off of physical erection of site to pave the way for long term value creation.
In this discipline we assess relevant construction methods and their impacts on site engineering, context, time, cost and finance. Especially with respect to large capital investments and numerous applied construction methodologies every activity must be efficient while effective.
Challenges in Erection Planning
Which is the most efficient degree of preassembly?
How will it effect a project's milestones and applicable cost structure?

Individual assessment of construction relevant documentation essential to construction methods

Organization of erection sequences

Design and planning of material supply and a project's supply chain

Design of erection planning by means of technical layouts, top views, sectional views, isometric views and corresponding documents

Planning of key functions during EPC execution phase and sub-phases

Planning of material sourcing chains, especially with respect to remote locations from planning phases over EPC execution until commissioning and ramp up of operations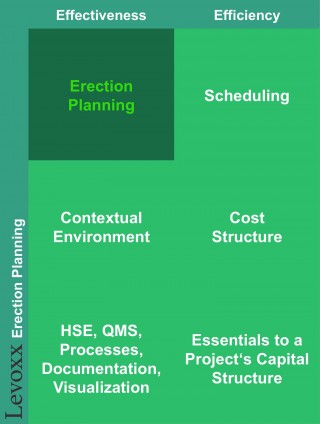 What is a project's critical path?
Which milestones effect and threaten a project's potential for value creation?

Erection planning for all of a site's areas incorporating efficiency and effectiveness of the entire site's progress

Erection planning for one area in correspondence with entire site progress

Site progress schedules & work breakdown structures
Challenges in Contextual Environment
What is the quantified impact on a construction site of technology shift or governmental regulations?

Assessment of macro environment of a large scale construction site, e.g. in terms of social, technological, environmental, economical, political, legal, ethical and demographical context

Raw materials access and handling procedures with regard to present and forecasted local conditions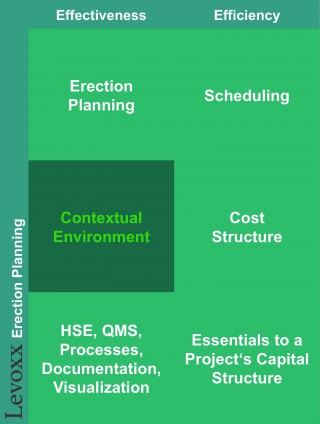 Challenges in Cost Structure
Which supplier must deliver which solution?
What is the optmial contract?

Optimization of bargaining positions in procurement and contract management

Supplier/Subcontractor scope definitions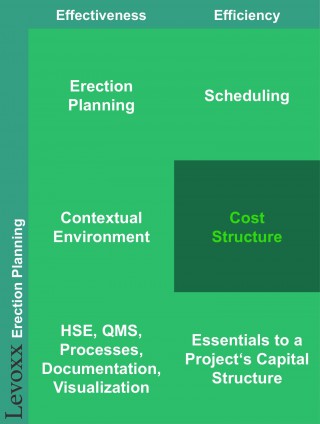 Challenges in HSE, QMS, Processes, Documentation, Visualization
How do all project participants understand a project's occupational health and safety requirements?
What are a project's quality requirements?

Provision documents that entail bill of quantities of resources that enable evaluation of ratios and performance figures

Design of quality measurement systems that enable performance measurement of construction progress

HSE-relevant planning for construction methods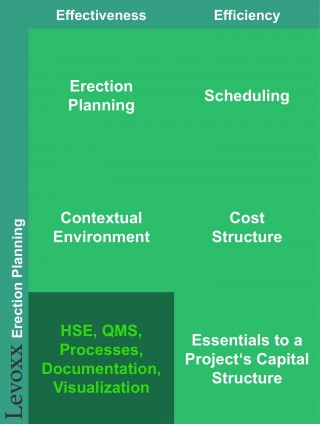 Aims essential to a project's capital structure
How do we reduce capital expenditure?
Which processes encompass relatively high impacts on a project's capital budgeting?

Frictionless process designs that enable safe, efficient and effective implementation of planned construction methods.

Improve potential for value creation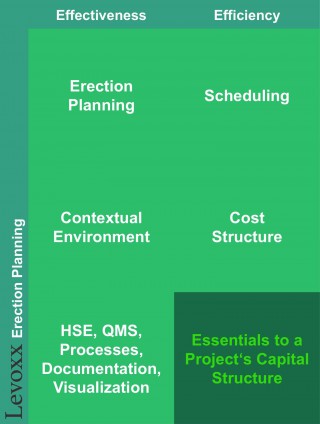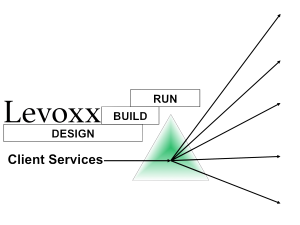 Our Documentation is:
Visualized with Visio, CAD and other relevant programs that enable immediate understanding of all topics for all project participants.
Three dimensionally simulated to assess interferences and sources for headache prior to physical execution and the need for pain relief.
Always ready to be forwarded to proof engineers and our client's client/subcontractors.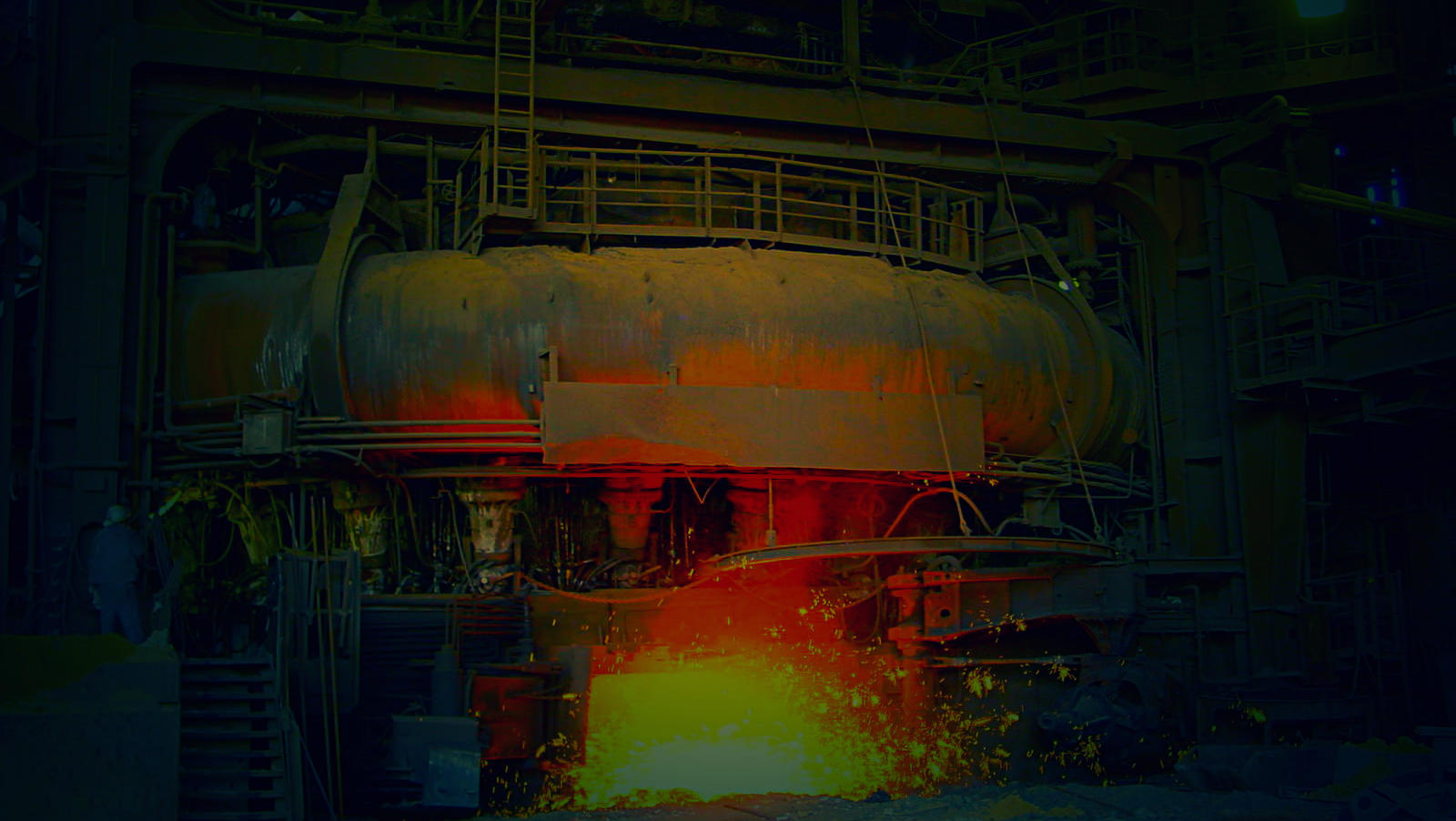 Levoxx Fast Response Team
Sometimes things do not work well, especially in a volatile, uncertain, complex and ambiguous environment. Thus, our fast response team assists in urgent matters that have to be solved without any further surprises. Thanks to global logistics and available modes of transport, we can be at your site as fast as the aircraft flies.
Uprighting an HRSG module
Which cranes will be capable of lifting the planned preassembled components, rather a telescopic crane or a lattice boom crane?
Is it commercially and technically preferable that the crane is capable of driving with hoisted loads?
How will a 250 tons, 30 m long module be uprighted? How many cranes are needed?
Where shall the lugs be positioned in prefabrication?
Will the subsurface piling resist the pressures of the planned cranes?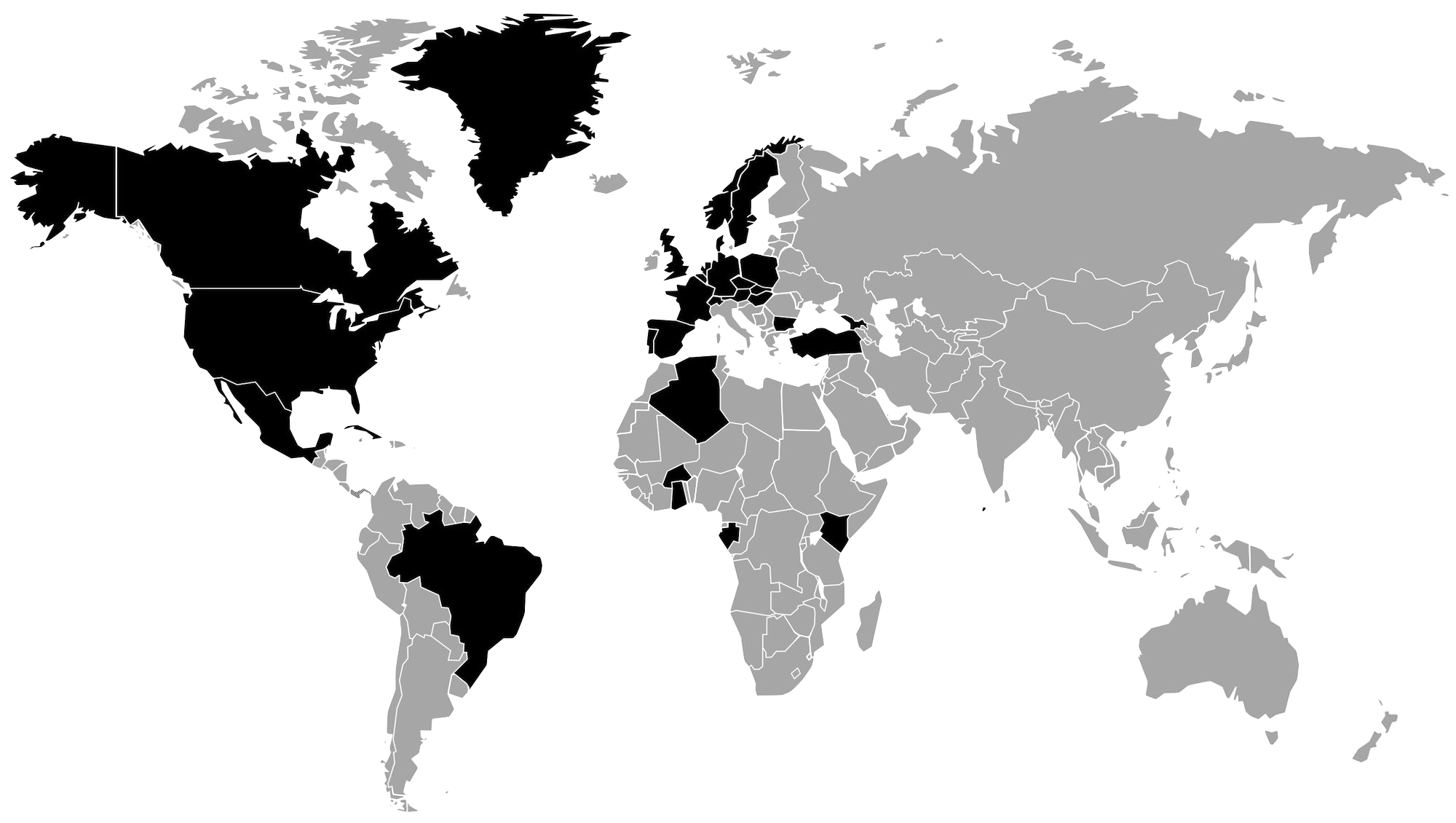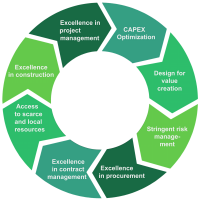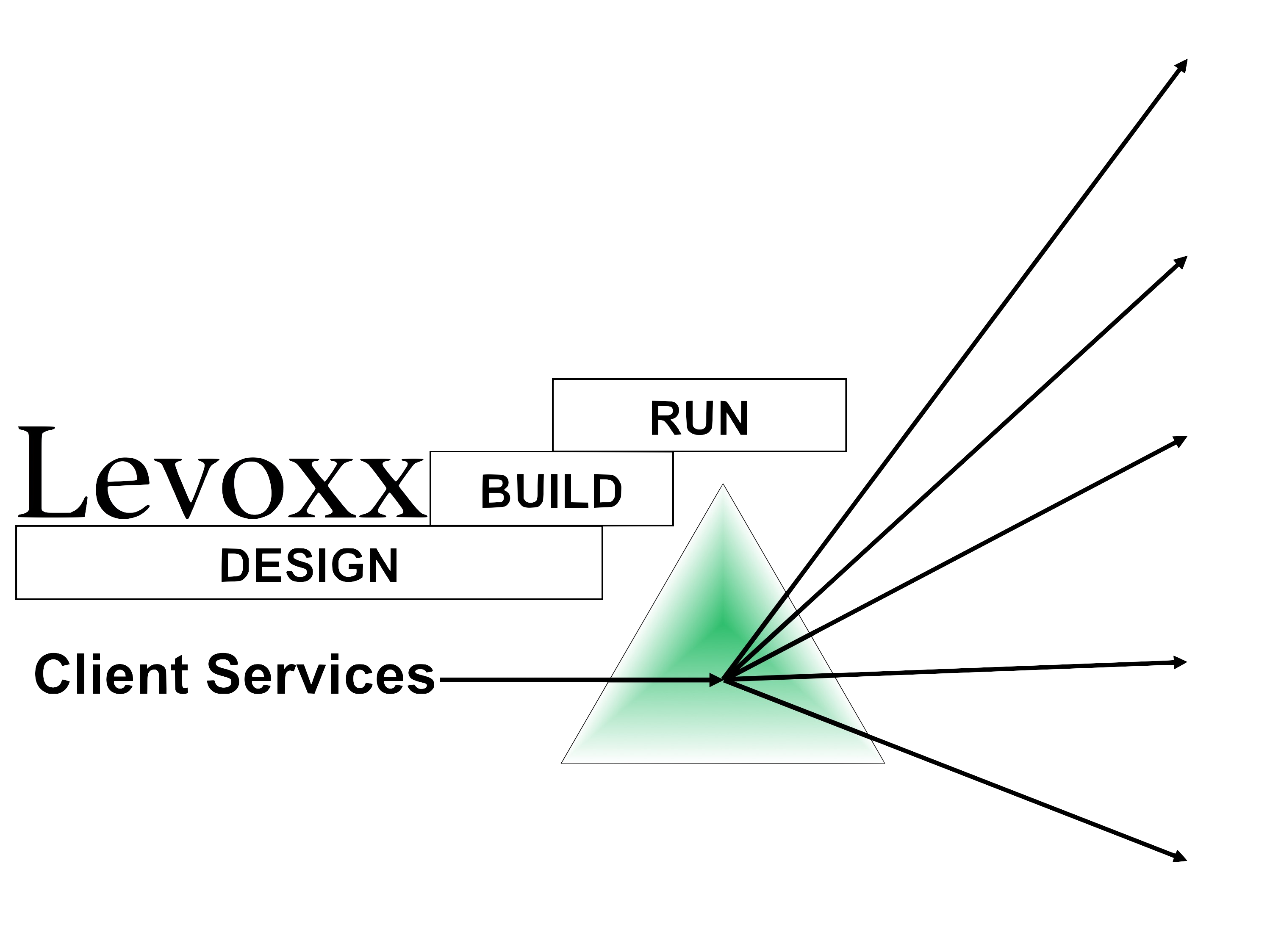 Beyond traditional boundaries: Levoxx is your co-worker in transformation.
Each of our client's assignments provides us with the unique possibility to produce added value together with our clients, shape standards, implement reasonably and enable long lasting impact.
Our solutions assist to look beyond conventional project management.
Levoxx's Large Scale Project Approach (LLSPA) is deeply embedded in our working methodologies and comprises eight areas that drive a construction project's success, deliver a project in time, on budget and at quality requirements.
Explore LLSPA
We are committed to offering efficient effectiveness, permanently.
Our client services comprise an extraordinary composition of deep industry and functional expertise. We partner with global construction projects. Our services aim to deliver optimal planning, frictionless execution, transformation and peak performance operations.
Client Services